These first sunny days make me feel like tasting some nice white wines!
Let's head off to Burgundy, a complex region where Chardonnay is the king variety. According to my investigations, it came from Croatia before the Romans cultivated it. It is a grape variety that flourishes in a very different way whether it is cultivated in the North on the cool, Kimmeridgian terroirs of Chablis or in the South, in the Maconnais region, where the sun brings it maturity and roundness.
Did you know that a village in the Maconnais is called Chardonnay? And that our American friends, fans of this grape, would not miss "Chardonnay Day" for anything in the world?
Burgundy is also the only region where, when talking about "Climat", we don't raise our eyes to the sky, we lower them to the ground. Indeed, this term does not refer to the weather, but to parcels of vines, carefully delimited according to very specific criteria such as history, soil, subsoil, geolocation, micro-climate, etc,.
Another grape variety from Burgundy that I would like to mention is the Aligoté. Yes, Ladies and Gentlemen, this grape is on its way to becoming one of the greatest in the years to come, trust my intuition. This variety can be complex when grown on beautiful terroirs and it offers wines full of vivacity.
But let's get back to our topic, and please join me to discover some emblematic estates' vintages, which should at best give you an irrepressible urge to open a bottle, at worst, salivate just by the thought of it.
DOMAINE VINCENT DAUVISSAT
Is it still necessary to present this major Chablis estate? It has shaped the reputation of Chablis for three generations. Vincent Dauvissat has been running the estate with a master's hand since 1989. Wines produced with extreme rigour, without ever claiming it, the estate is run according to the principles of biodynamics. Wines are aged in oak barrels in a perfect balance, where the wood is never overwhelming. These wines are made to be kept.
His exceptional Chablis Grand Cru les Preuses 2019 is as rare as it is stunning. A top Chardonnay from this magnificent terroir renowned for its minerality, Les Preuses finds its origin in the word stone. The nose is finely iodised and subtle. The long palate reveals notes of peach and lemon zest, the texture is delicate as silk. The energy of the wine is striking. Amazing, truly amazing.
This wine pairs divinely with creamy Osciètre caviar, a trout with almonds, or sautéed prawns with an Asian sauce.
DOMAINE FELETTIG
Discreet, the wines of the estate have existed since 1969 under the management of Henri and Reine Felletig. Today, the estate is managed by their children, Christine and Gilbert. All the parcels are managed using sustainable viticulture. The estate extends from Gevrey-Chambertin through Chambolle-Musigny, Beaune and the Hautes-Côtes de Nuit.
The 2018 Nuit Saint-Georges 1er Cru Les Terres Blanches has a pale yellow colour. On the nose, notes of white flowers, acacia, and citrus fruit. The palate is straight, chiselled and pure! A superb, sincere and confidential cuvée, with barely 900 bottles produced per year. Its name comes from the fact that the soil is strewn with small white pebbles and limestone.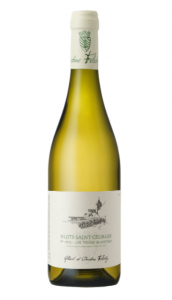 If you wish to taste this beautiful bottle, I advise you to treat yourself with a Linguine alle Vongole (my favourite sin), which secret is… a lot of Vongole! A soufflé with comté cheese or a roasted sea bass with almonds and fennel.
DOMAINE ANNE GROS
Since 1988, Anne has taken over her parents' estate in Vosne-Romanée, she is the 6th generation. Known for her red wines, she also produces remarkably well-balanced white wines. The estate works with sustainable methods and the preservation of biodiversity is essential.
Anne produces a brilliant white 2020 Hautes Côtes de Nuit cuvée Marine. Produced on barely one hectare, with a lovely light gold colour, the nose opens with exotic, lemony and saline notes. On the palate, it offers a minerality and a singular tension that awakens the taste buds. The grapes are picked when ripe and the wine is aged in 500 litre-barrels, 30% of which are new. A very harmonious wine.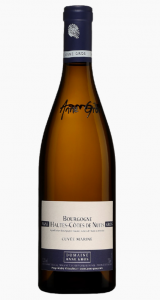 This wine is to be enjoyed with pan-fried langoustines, a quiche with chanterelles and porcini mushrooms, or a mature Beaufort cheese!
DOMAINE ANNE BOISSON
Anne Boisson is not just a winegrower; she is the daughter of winegrowers and produces amazing wines in Meursault with her brother Pierre. They reflect the terroir and the Burgundian way of working to perfection: author wines and hard work. The grapes are meticulously sorted, the wines are unfiltered to keep all the soul and sap of the wine.
Her 2018 Meursault Sous la Velle is a gem. Its colour is golden and brilliant, its nose intense with toasted bread, and floral notes. The mouth is the final bouquet, a beautiful fatness enveloping your whole palate with voluptuousness. "Sous la Velle" means Village in the Burgundian dialect! The vines for this wine are located below the village of Meursault. Its ageing is long, as is its ageing potential!
You may try it with a turbot with citrus fruits or a chicken with morels.
DOMAINE HUDELOT NOELLAT
Another great estate producing Haute-Couture Meursault. Since 2008, the estate has been taken in hand by Charles Van Caneyt, grandson of Alain Hudelot. Since then, a more committed work for the respect for the soil and nature, an estate in constant evolution to keep an eye on!
The 2018 Meursault Village Clos des Ecoles is particularly bewitching! The light, yellow colour leads to a nose of ripe citrus fruits, vine peach. The mouth is pure and long, offering a touch of salinity, white fruits, and fatness. A 16-month ageing in oak barrels gives texture to this great gastronomic white.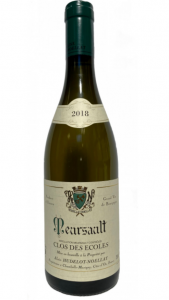 Of course, let's try it with a risotto! Mushrooms or asparagus, salmon with beurre blanc.
DOMAINE LEFLAIVE
This mythical estate in Puligny-Montrachet was born in 1920 and is now run by Brice de la Morandière (and was admirably managed by Anne-Claude Leflaive, a pioneer of Biodynamic viticulture for 25 years). The quality and regularity of the wines make it a serious and well-known estate. The quality of the wines is always amazing, close to grace…
The estate produces a fabulous 2019 Puligny-Montrachet 1er Cru Clavoillon. This first growth is particularly delicate. Golden yellow in colour, the nose exudes notes of stewed white fruit, butter, and lemon. The palate is vibrant, straight, fresh, and full. The wine is aged for several months in barrel and can be kept for at least fifteen years. The intensity of the great terroirs is recognisable in the Leflaive style!

We like to taste it with a semi-cooked foie gras, a Bresse poultry, or scallops and a leek fondue.
DOMAINE D'AUVENAY
This micro estate of 3.87 hectares located in the commune of Auxey-Duresses belongs to one of the great figures of Burgundy, Lalou-Bize-Leroy. Cultivation is entirely biodynamic. It produces an Aligoté that is as rare as it is extraordinary, one that can compete with any great Chardonnay.
The 2015 Bourgogne Aligoté Sous Chatelet is simply phenomenal. The nose is ripe and mineral, the palate is a monumental slap in the face, powerful, mineral, and lively, it stretches out for endless seconds. The texture is amazingly dense. Blind tasting? We could go for a great Puligny. Make way for the Aligoté!
A meditation wine in its purest expression.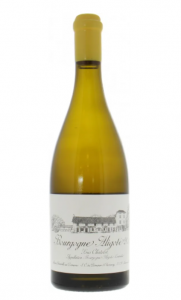 DOMAINE LES HERITIERS DU COMTE LAFON
The one and only Maconnais estate that has made a name for itself for several years! Led by Dominique Lafon and Caroline Gon, it is very demanding and is totally biodynamic. What is the talent of the vintages? Keeping freshness in all the wines by combining the roundness and the fatness of the nice ripe Chardonnay.
The 2020 Macon Clos du Four is a jewel! Surely the flagship cuvée of the estate, with its colour of brioche just out of the oven, its nose marked by silex, pear, and truffle! Its mouth is full of flesh, with notes of fresh fruit and lemon. A true bombshell! This parcel is located at an altitude of 250m, in the commune of Milly Lamartine.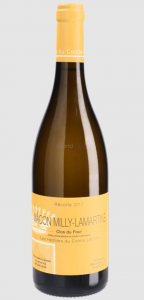 It is perfect with a sea bass with herbs, a vegetable curry with coconut milk, a ceviche of sea bream. Yummy!
If you don't fancy a glass of Burgundy white wine yet, let yourself be carried away by these great terroirs and start cooking, there is nothing better to whet your appetite.
The author of the article
Alessandra Fottorino is a sommelier-trainer, agent, consultant, and author. She is a member of the Competition and Tasting Jury of Régal and Terres de Vin magazines, and is passionate about biodynamic, natural and orange wines. Alessandra is committed to increasing the visibility of women in the wine world.
Related posts